Funny Cat Parking 24-7 Long Sleeve Cat Lover T-Shirt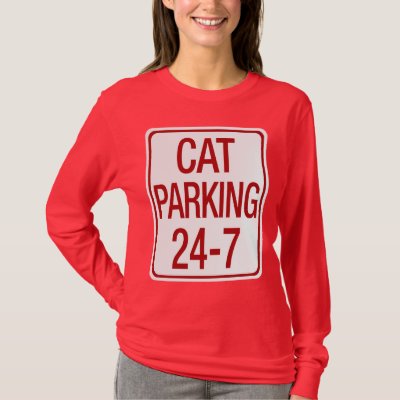 This funny graphic long-sleeve t-shirt for cat lovers features a bold sign-style image that reads "Cat Parking 24-7" in bold red text. The design is made to look like a street sign that you might see roadside to indicate car parking regulations. In this case, the sign graphic is all about cat parking regulations -- and your lap is open for cat parking at all times!
This funny graphic apparel design for cat lovers is shown here on a red long sleeve shirt, where the red and white graphic really pops. You can get this graphic on other t-shirt styles, for men, women, and kids -- and in a huge variety of colors, too. Just use Zazzle's easy style selection to pick your favorite apparel option.
More Funny Cat Parking T-Shirt Gifts: Cat Breeds
Other Cat Parking 24-7 T-Shirt Apparel Gift Ideas